The VR market is filled with cheap/affordable VR headsets and Shinecon VR headset is one among them. Being one of the major sellers on Amazon, this product is highly in demand and you would easily find a lot of people recommending it but is it worth the money? Or is it yet another VR headset that promises a premium experience and fails miserably? Read the Shinecon VR headset review to find out every detail about this VR headset.
Amazon Ratings: 3.2/5
View Price: www.amazon.com
What I liked about the headset
1. It had a nice cushioning on the sides and a lot of space for the nose to fit in, this was not the case of many VR headsets and you ended up getting marks on your nose. Taking that into consideration the comfort level is pretty great for the price you pay.
2. Apart from being comfortable, it is pretty compatible with almost any phone with a screen size between 4.7-6 inches which is something standard for these VR headsets. However, it holds the phone pretty well and the head-straps are pretty good and comfortable.
3. You can adjust the lenses according to the spacing between your eyes and even move the lenses back and forth. It has vents which cool the headset by providing ventilation to avoid fogging up of the VR headset.
4. It has a magnetic lid so that is pretty sleek and it does have a premium look as compared to the other VR headsets in that range.
5. It does have a protective layer of foam in order to protect your phone and two plastic arms can be seen as soon as you open up the lids in order to secure your phone in them since the arms are adjustable.
What I did not like about the headset
1. Really bad VR quality, I could see the corners of the screen and it was getting stuck probably at every frame so I guess not that good after all.
2. FOV is not that great, again that being the reason for the sides of the phone to be seen which basically kills the immersive experience and to be honest actually ruins most of the VR effect.
3. You would get motion sick after a while and this is a frequent complaint in this VR headset, however, the motion sickness is a common problem in most of the VR headsets but the other have it relatively less. I do recommend you have a strong stomach before you try out this one.
4. This is one product whose many versions are available on Amazon, I really do not understand how it works, however, the one I have linked at the bottom of my page is the right one.
5. I have even seen it getting a really high rating from amazon and most of the users claim that they have been asked to review the product in exchange for some discount on it.So this explains its popularity on amazon!
Content for the VR headset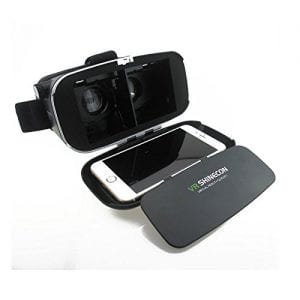 The VR headset does come with a QR code linking to the official website but soon you would realize it has not much sensible content. Try downloading the Google Cardboard app and try the free demos and 360-degree videos.
You might need a Bluetooth controller for using the Google Cardboard app and it is better that you invest in a good controller rather than the cheap $7 controllers that are available on Amazon. Try investing in a Moga controller which cost around $17 because they work pretty well and last really long, unlike the cheap controllers where its working mainly depends on your luck.
You can play most of the games that are free and are meant for the Google Cardboard, however, if you are looking for the VR headset's own content then you have my good wishes.
Bottomline
After reading a couple of the "GOOD" Shinecon VR headset review, I did realize that most of them had received the product for free which explains a lot! The honest review would be that this product is not worth it because of the low-quality VR experience and would just turn out to be like another VR Box 2.0 experience. Most of the customers were welcomed with just a blurry mess but only a few were honest enough to write a fair review.
Rather than investing and buying this VR headset, I would definitely recommend you Merge VR, Freefly VR or Samsung Gear VR which are better than this crappy headset. If you really want to go ahead with this VR headset and at least make sure that you have a controller because the VR headset will be useless without a controller which is needed to run the Google Carboard apps and games.
The Shinecon VR headset could be better and it is really sad that you do not get anything interesting after spending $18 on it. There are many versions of this VR headset on Amazon and that makes you get confused which is a legit company and which is not! That would be another reason to stay away from the Shinecon VR headsets and its clones that are available on Amazon.

The final verdict would be that if you have heard any good Shinecon VR headset review then most of the time such people have received a free headset from the company and are simply promoting the brand. If you want the right VR headset then read my take on the
Best VR headsets for Android phones
and
Best VR headsets for iPhones
.
What are your views on the Shinecon VR headset?
Have had any experiences with this VR headset? If yes, then leave them in the comment section below!
You can leave your questions or queries in the comment section and I would be happy to help. If you found this post helpful then do not forget to share it on Social Media.