One of the most interesting VR glasses on amazon has to be the Stimuli 2VR. I came across this VR glasses while browsing amazon and wanted to try it out because of its unique design for a VR headset. It indeed has a pretty different design for a pair of VR glasses and it got me thinking about how it worked. There are a few VR glasses which are similar to the Stimuli 2VR but for some reason, these pair of VR glasses does make you wonder if it is just the design or if the VR glasses work as good as the VR headsets.
The Stimuli VR glasses is a portable VR glass and it can be easily carried around which reminds me of the Homido Mini which is pretty much similar to it except for the additional full frame. Well, is it better than the Homido Mini? Let's find out in the Stimuli 2VR Virtual Reality Glasses Review.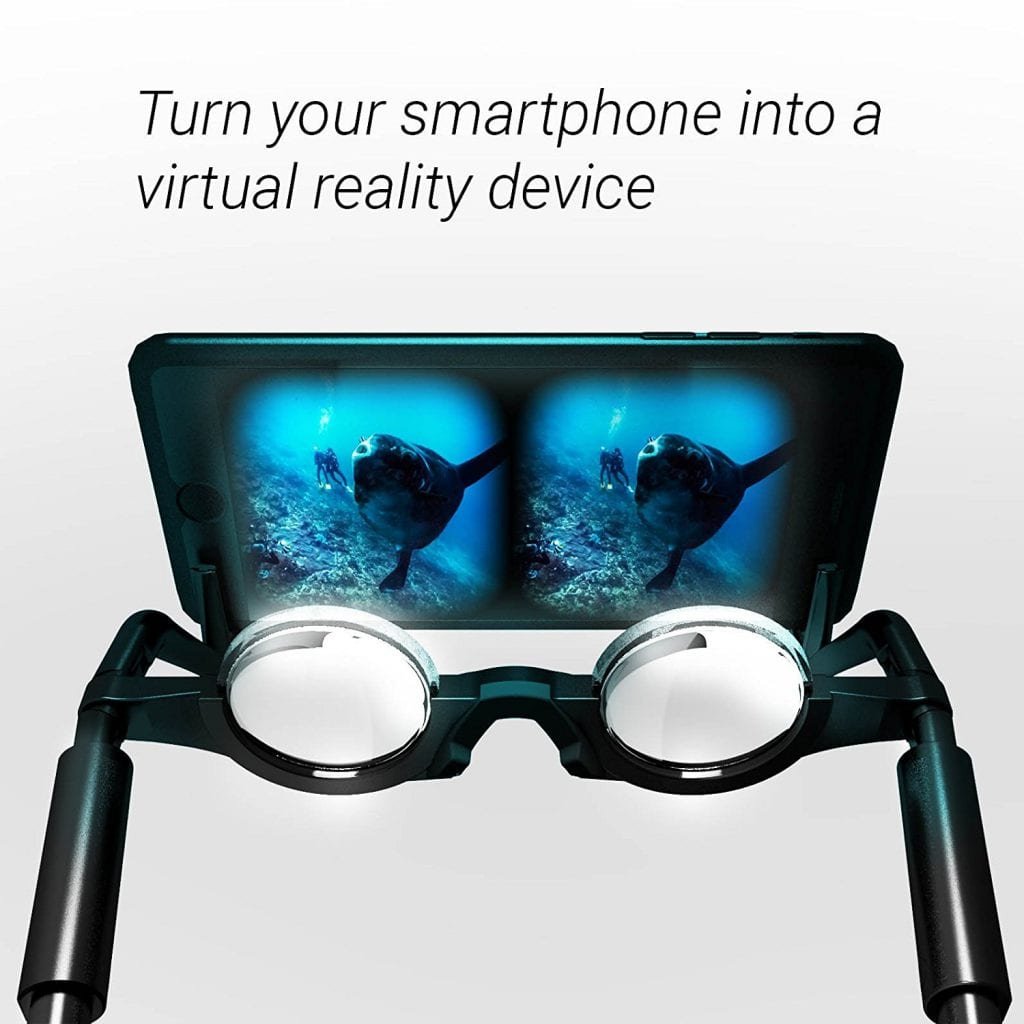 Weight: 120 grams
Dimensions: 6.8 x 3.3 x 2 inches
Amazon Rating: 4.6/5 (25 Customer Reviews)
Product Link: www.amazon.com
What I liked about the Stimuli 2VR
1. The design of the Stimuli VR glasses is pretty unique and the entire headset resembles the Homido Mini except that there is an extension to the frame design in this case. This extension makes these VR glasses provide a hands-free experience, unlike the Homido Mini.
2. The VR glasses comes in a nice dust bag which can be converted into a VR headset with the glasses being inside the cover and holding the phone firmly to block out all the light. This shows some clever design skills that the manufacturers have adopted while making the Stimuli 2VR.
3. Since it is more like corrective glasses you cannot wear it over one. You need to wear lenses if you have the problem of near sightedness or far sightedness. If you have perfectly normal eye lenses then the experience would not be blurry.
4. The VR glasses are easy to wear anywhere you want and you could carry them along with you all the time. They would be perfect for traveling since they do not take too much space in your bag and are compact and convenient.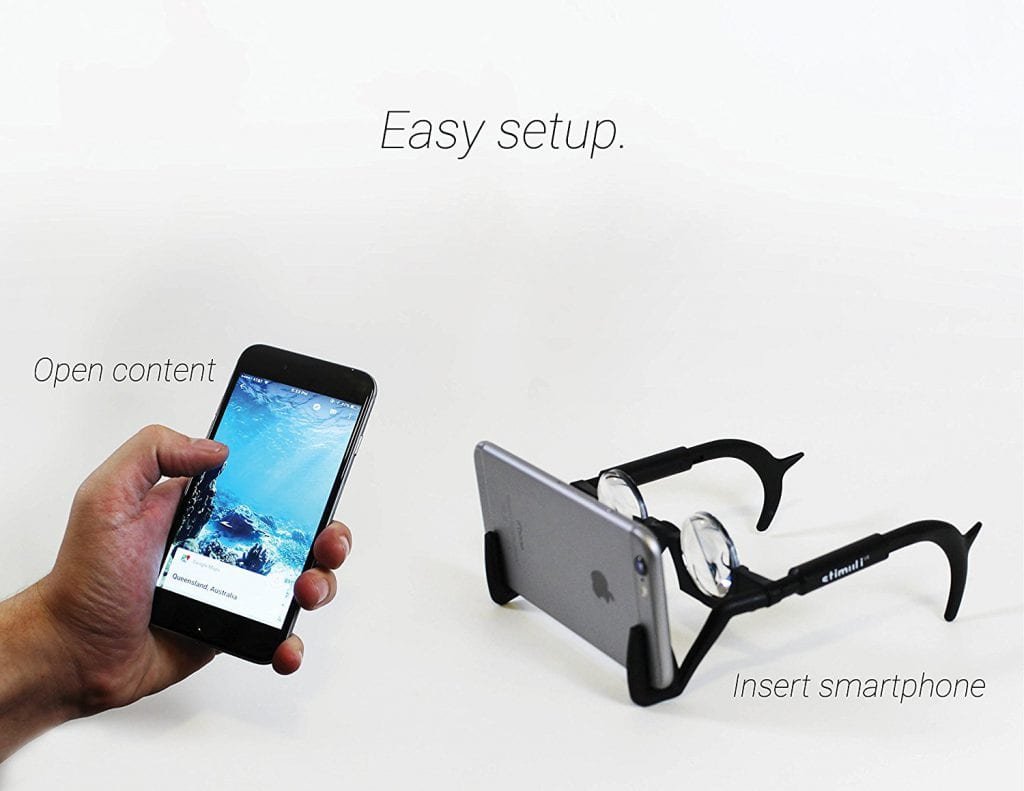 5. There would be no overheating issues since the phone has an open back resulting in enough ventilation and not causing your phone to shut down right between a game due to overheating issues.
6. You have the option to touch the phone screen for navigation which in most of the headsets require you to remove the entire phone then change the app and then put the phone back inside the VR headset again.
7. The VR glasses are perfect for VR demos and enjoying 360-degree videos. Unlike the Homido Mini, these glasses can be used for gaming as well since you can touch the phone screen with your hands to select the controls for a game or go for a gaming controller.
8. They come in different colors and can accommodate android/iPhones with screen sizes ranging between 4-5.5 inches.
What I did not like about the VR headset
1. The Glasses may feel a little heavy on your nose bridge after a while. You cannot underestimate the fact that most of the weight will be concentrated on the nose bridge and you are destined to feel the pain if you opt in for long hours of gaming.
2. There is no magnetic trigger which will not make the experience as immersive as you might expect. However, there are ways in which you could overcome this but having the magnetic trigger is a great help when it comes to using the Google Cardboard app.
3. The VR headset would be great for videos and experience but it will be a pain to wear it for really long hours.
4. The experience is not as immersive as some of us might expect. They are basically two lenses and you cannot adjust the interpupillary distance which does imply that you might have to make a few compromises with the quality.
5. The experience can never be compared to that of the premium VR headsets that are double its price. If you are looking for a VR headset exclusively for gaming then you may want to consider the Merge VR, Gear VR or the Freefly VR which are double the price but you get what you pay for!
Content on the Stimuli 2VR
I doubt if you could play many games with this but it is surely fun to watch 360-degree videos and experiences. That being said, there is too much content to view on these lenses and even if you cannot play VR games with these glasses, the experiences make up for all that is missing.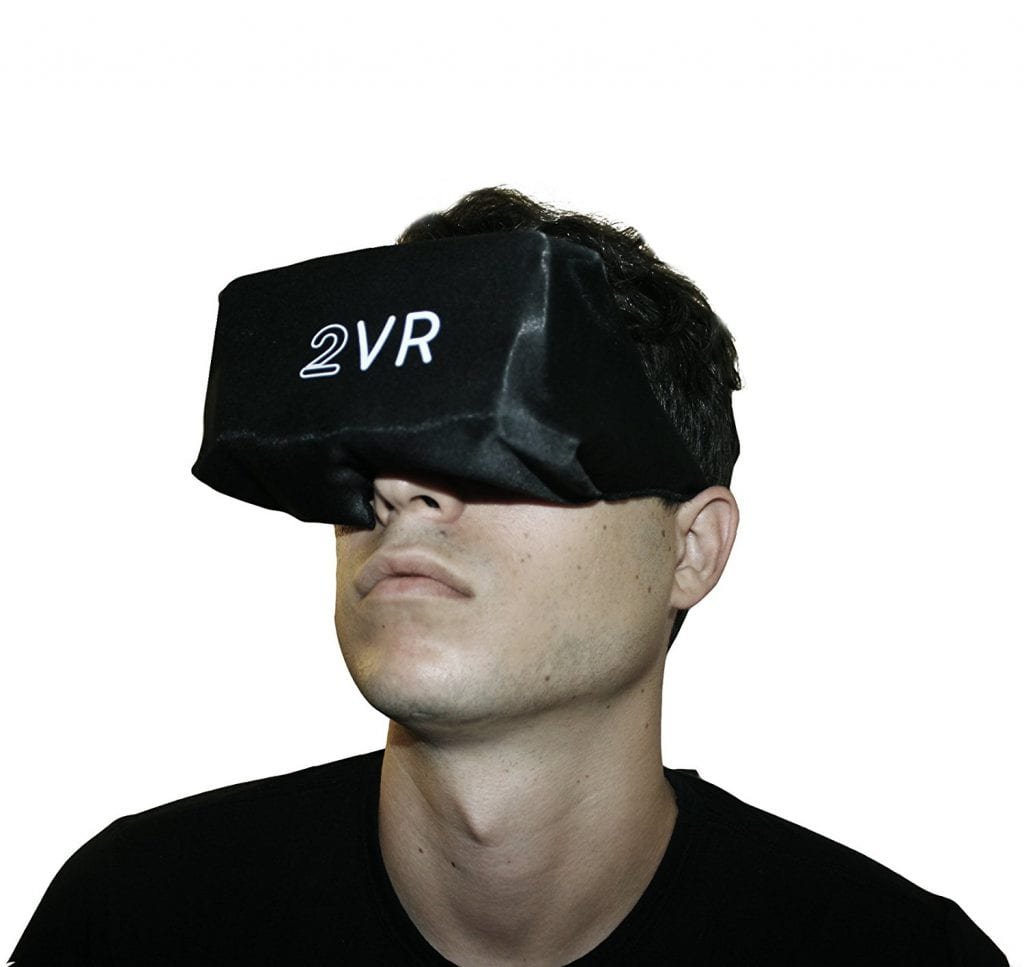 These lenses are intended for experiences and VR demos that would just give you a taste of how an app would look in Virtual Reality. These VR glasses are a unique asset to have if you are a VR nerd and it is surprisingly good when it comes to the quality of VR experiences.
Conclusion
The Stimuli 2VR are great VR glasses and it is indeed fun to experience VR through them. However, if you are searching for a VR headset where you could play games for hours together then you might want to reconsider buying it and going for the premium VR headsets which provide premium quality VR experience.
The Stimuli glasses are great when it comes to 360-degree videos, VR experiences, and apps where there is no interaction. The VR glasses indeed bring a really fun experience and the convertible pouch that it comes with makes the immersive experience interesting.
Overall, Stimuli 2VR is a great product and if you want a small dosage of VR in your life then you should go ahead and try them out. If you are looking for a full VR immersive experience then you need to choose from premium headsets for your Android and iPhones.

Did you find the post helpful?
Do you have any experiences?
Leave your thoughts in the comment section below and do not forget to share this post with your friends!